Contractor Expo returns to Home & Agro Centre
Actions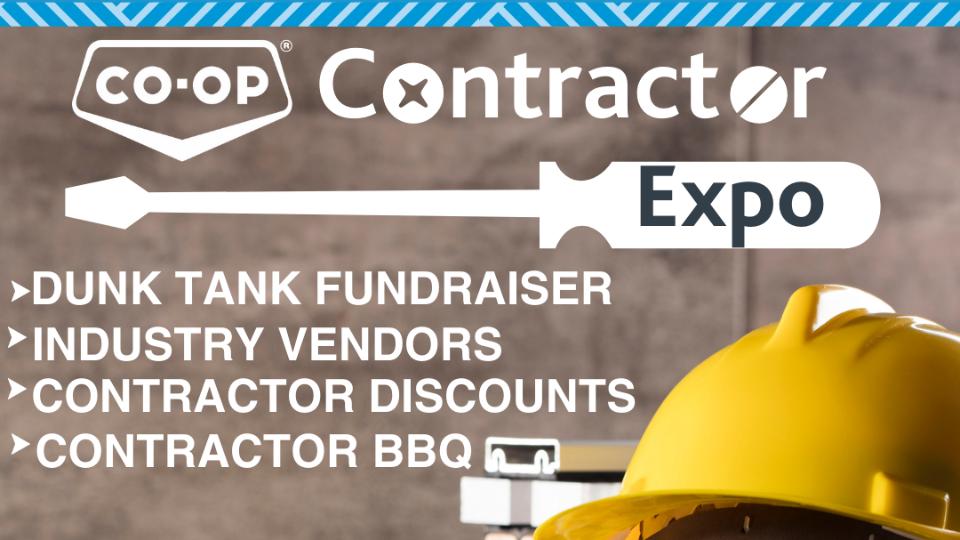 Contractor Expo returns to Home & Agro Centre
September 7, 2023
Mark your calendars now for the Dawson Co-op Home & Agro Centre Contractor Expo – Thursday, September 14, 11:00 am to 3:00 pm. Connect with more than 20 industry-leading vendors who will be on hand with the latest product information and hands-on demonstrations.
Confirmed vendors include: Plygem Windows and Doors, Mitten Vinyl Siding / Mitten Building products, Westform Metals, Boyd Distributors, Goodfellow, Gillfor, Taiga Building Products, Canwel Building, Can-cell Industries, Regal Ideas, Iko Shingles, Ames Tile, Dewalt/Stanley, GRK, Quality Stone/Instone, Blaze King, Cloverdale Paint, Prime Fasteners, Durabuilt Windows, Jeldwen, Bissett, and Makita.
Bring your friends and family, and join us for a day of inspiration and innovation. With prizes, trophies and bragging rights, you won't want to miss our tests of skill: Hammer Slammer, Screw Off, and Shinglepalooza. You can also enjoy our by-donation BBQ with proceeds going to the Nawican Friendship Centre, and NEW THIS YEAR- the DUNK TANK, where you can expect to see some of Dawson Creek's finest citizens enjoy an icy plunge.
The Co-op Home & Agro Centre Contractor Expo: it's not just about your latest project; it's about building relationships and discovering new ideas. We can't wait to see you there!
Discover more: