Dawson Co-op Fuel Good Day for DC Literacy Society
Actions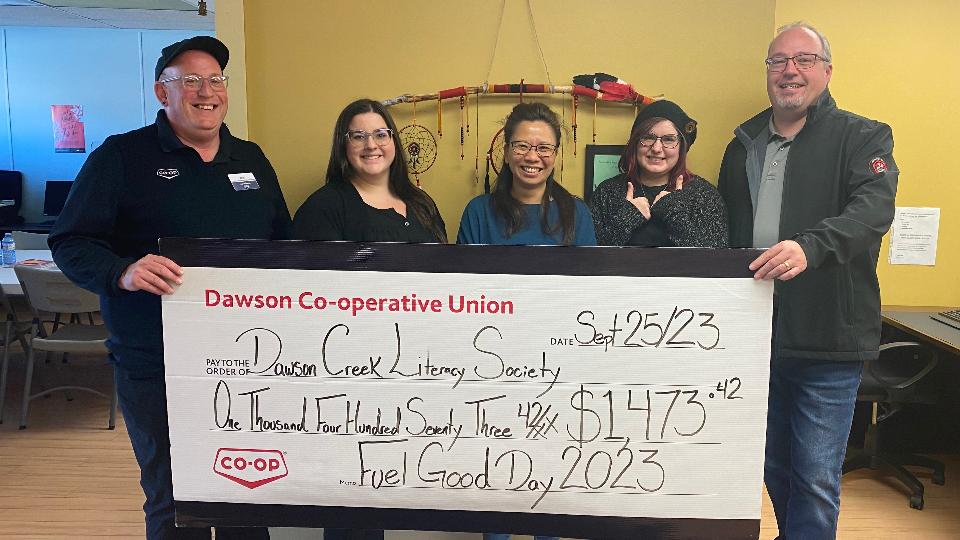 Dawson Co-op Fuel Good Day for DC Literacy Society
September 26, 2023
On September 19, Dawson Creek showed their community support by fueling up for good on Fuel Good Day at the Dawson Co-op.
Dawson Co-op donated $.10 for every liter of gas/diesel and $1.00 for every coffee and Big Cool sold on Fuel Good Day for a grand total of $1,473.42 to this year's recipient, the Dawson Creek Literacy Society.
"We are so grateful for Fuel Good Day and the support it brings to our community. Our organization was founded in 1991, and we provide settlement services and language instruction for newcomers; adult upgrading/high school completion, college preparation and support; workshops, activities, and learning opportunities for families; and we are part of CRA's volunteer income tax program as well as members of the ResilienceBC Anti-Racism Network. We help individuals and families throughout our community, of all ages and service needs. This has only been possible with the continued support of our community and incredible partners like Dawson Co-op. Thank you to everyone who chose to help make a difference in our community by filling their tank on Fuel Good Day," said Caitlyn Triebel, Executive Director at The Dawson Creek Literacy Society.
"Fuel Good Day is an easy way for everyone to help support individuals and families throughout Dawson Creek simply by filling up their tanks with fuel they need anyway. It's heartwarming to see the community's commitment to support Fuel Good Day — we have one Dawson Co-op Member, Mr. Frank R., who showed his support by bringing in several of his vehicles throughout the day — all of them pretty thirsty, which certainly contributed to the final donation amount!" said Heather Kohler, Marketing Manager for Dawson Co-op.
Kris Enriquez, Dawson Co-op Gas Bar and C-Store Manager, Robyn Larden, Dawson Co-op Marketing Assistant and Kelly O'Donnell, Dawson Co-op Petroleum Manager were on hand to meet Caitlyn Triebel, ED and Zi Qing Ma, Officer Manager, at the offices of The Dawson Creek Literacy Society to present the cheque for the proceeds from the 2023 Dawson Co-op Fuel Good Day, held on September 19.